Site maintaned by
Adam Hegyi.
Best viewed in 800*600 or more.
Netscape and IE tested.







Update! :: (30th April, 1999)

What's this? An update? Yeah!
Sorry about the week of silence, Real Life (TM) got in the way.

Okay, kicking off the update, we have a handful of new demos to watch:

Jason Henry, the best keyboarder of modern days, has sent a couple of very interesting LMPs. He produced a rather unconventional movie, a Tyson run of DOOM2, from MAP01 to MAP13. Even though he skipped MAP07 and MAP12's ending (using the conventional weapons there... where are you Demonlord?), it's still an entertaining run to watch. Go grab it. He also showed incredible skill in this NightMare run of MAP15 (to the normal exit, which is *hard*) and a Pacifist of the ultra-tough MAP06 with very spectacular moves in the ending room. Both are must have!
I managed to pull out an improvement over Adam Williamson's Tyson of the classic E1M1, the time is now 0:49; plus a 1 second improvement over my own MAP32 Max, new time is 0:36.

If you're reading this far, you might be wanting something :) Hmmmm... I know... you want a competition, right? Well you've got it! A new contest! More info on the contest page...

Pretty much off the topic, but I heard this joke the other day and liked it so much that I thought I share it with you:

Sherlock Holmes and Watson are lying in the grass, on their backs, watching the starry night sky.
Sherlock Holmes asks:
"Watson, what do you think of when you're watching the starry sky?"
Watson answers calmly:
"If I think as an astronomist, I think that there are millions of stars in the sky."
"If I take my emotional side, I think that we're just a tiny little piece of dust in the vast and endless space of the universe."
"If I think from the weather's point of view, I think that there won't be any rain tonight."
Sherlock Holmes says:
"Watson, the tent has been stolen!"


Ultimate DOOMing :: (23rd April, 1999)

We have a new player from the Netherlands, Marko van der Want. He debuted with a nice Pacifist recording of MAP27, in 14 seconds. If you *still* don't know how to finish Monster Condo in such a short time, well, download this demo by Marko.
Vincent Catalaa's latest Pacifist, on E4M7, didn't seem to get an update. Sorry about that. You can grab it now.
Adam Williamson has improved Anders' Tyson of the classic E1M1 by a little bit, the time is now down to 0:53.

The new contest will hit you sometime next week... you feel the tension, don't you? :)


The promised demo bunch :: (20th April, 1999)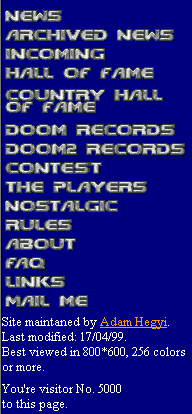 This is what we got last week (all demos available now):
Adam Williamson improved his Ep1-Max run down to 24:07. He also sent us a nice E1M1 -fast and an E1M2 Tyson.
Henning Skogsto did two DOOM2 Nightmare demos (DOOM2 demos, at last!), one on MAP06 and the other on MAP13.
Newcomer Chris "Ryback" Ratcliff introduces himself in true style: he sent us demos of a previously undone task! The task being E3M6 (Mt. Erebus) Pacifist, normal exit. Chris did it both in Ultra Violence and Nightmare, which is quite exceptional, given that Chris is a strafe-on keyboarder! There are three demos to watch: his initial UV effort of 3:12, his Nightmare demo of 0:40 and his improved UV recording of 1:27. Great stuff by Chris!

Ah yeah, hit 5000 was Mr. Mattias Berggren. You can see his screenshot on the right side. Mattias's reward is a cool demo, which isn't part of COMPET-N and I guess not too many people have it. Enjoy it Mattias!


FTP up (?) :: (19th April, 1999)

It seems so that our FTP site is working again. I'm yet to receive any confirmation from the server administrator if everything is okay. I'd ask the people who sent me demos in the past days, please DO NOT send them to incoming. I'll handle them myself.

Next update will have the demos.


Some demos for you :: (17th April, 1999)

I received word that our FTP site is under maintenance (being upgraded to Debian Linux 2.1). That means it could be down for the whole weekend, or more. Hopefully not, but I can do nothing about it just sit and wait.

Anyway, I'll make the recently incoming demos available here (it's just HTTP, hope you don't mind). Let's see them:

Steffen "Rini" Udluft sent a fist/chainsaw only Episode 1 UV Run... Quite amazing, just think that there are 2 barons at the end of the episode! Here you grabbed it.
Adam Williamson sent a Tyson run of Episode 1... similar to the previous one, of course Tyson allows the pistol too, but requires 100% kills on all maps... Adam does a very neat job on all maps. It's a bit long, but worth the download anyway.


Just an update :: (16th April, 1999)

Unfortunately our FTP is down at the moment... I dunno why... Hopefully nothing serious but I'll ask the server's administrator anyway. No updates about demos till then.

We're reaching 5000 hits pretty soon... I just wanna grab the opportunity to say thanks to all the people who visited this page in these 4 months... keep visiting in the future too! If you will be the lucky 5000 and post me the screenshot, well, who knows what could happen? :)


The usual Anders package :: (13th April, 1999)

Anders just sent his newest stuff... time for you guys to get your records back ;-) Let's see what he's got:

New Ultimate DOOM -fast runs, a lot of them: E1M5, E1M9, E2M2, E2M3, E2M4, E2M5, E2M6, E2M7, E3M1, E3M2, E3M3, E3M4, E3M5, E3M7, E3M9, E4M3, E4M5, E4M8, E4M9.


Huge update :: (10th April, 1999)

I just love the activity around... Keep on pouring that stuff!



More stuff for Ultimate DOOM :: (7th April, 1999)

The demos just don't stop coming... great job guys!

First of all, the third member of the "Norwegian Invasion", Jan Endre Jansen sent us a few demos: new -respawns for E1M2, E1M5, E1M6 and E1M7, and a new Pacifist for E2M1.
Vincent Catalaa is still on Pacifist mission: his newest one is E4M5, in just 0:37!


Demos non-stop :: (5th April, 1999)

I hope you guys managed to watch most of the demos from the last update, because here's the next bunch... Let's see what we've got here:



Anders is BACK! :: (3rd April, 1999)

Anders Johnsen comes back with a vengeance. He recorded a huge bunch of new demos... Let's see what he's got:



Yet another contest ends :: (1st April, 1999)

COMPET-N's 4th contest has ended. The task was to have a full run of DOOM2 with no monsters killed and no secrets found. We had some nice attempts but no one was able to make the whole thing. So strangely this time, no demos will be posted. Thanks for all the players who took part in this, very challenging and fun contest. I'll be sending their giveaway prizes very soon. Everybody will get the same prize (Intel PIII-500) because no one could get the full run.

[ Look at the date you *fool* !!! ]