Site maintaned by
Adam Hegyi.
Best viewed in 800*600 or more.
Netscape and IE tested.







E1M4: rocket jump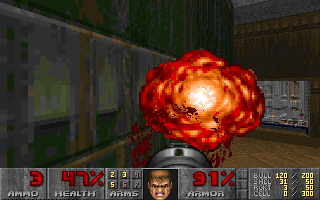 Created by:
Steffen Winterfeldt
First demo by:
Steffen Winterfeldt
d1s-sw (07/11/1995)
Fastest demo by:
Thomas "Panter" Pilger
n1m4-023 (31/03/1998)
Skills needed:
good timing is essential
Difficulty:
easy, however you cannot try twice :)
Description:
This trick originally appeared as a free interpretation demo in Steffen Winterfeldt's DOOM Schwarzenegger DHT exam. It shows a really cool use of the rocket launcher, as it can make leaps like this easily possible. The level seems to be designed for the trick: the soul sphere and the rocket launcher together, and the walls on the stairs set up the trick nicely.
This trick was mainly used in NightMare speedruns but is rarely used today since it was replaced by other ones.