Site maintaned by
Adam Hegyi.
Best viewed in 800*600 or more.
Netscape and IE tested.







E1M4: exit jump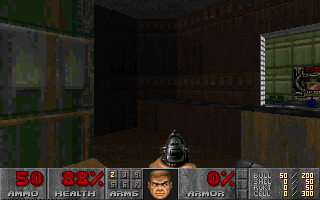 Created and first demo by:
Adam Hegyi
e1m4-014 (08/06/1999)
Fastest demo by:
Jonathan Rimmer
e1m4-013 (07/05/2000)
Skills needed:
precise strafe50 running
Difficulty:
medium, but it's strafe50 only
Description:
This jump (and its twin brother, the E4M3 one) pushes the DOOM engine to its limits. It shows off a 192 unit jump which is about the biggest possible. Earlier this jump needed a rocket launcher (see details).
As we know, this jump involves a DOOM bug and wouldn't be possible without it. The bug is that the calculation of the player's speed is incorrect when a transition from ground movement to air movement is made. In other words, the player moves faster in midair than on the ground without any reason. Of course this applies to all jumps, and also when running down stairs.
So far, the E1M4 jump has been done in UV and NM speedruns.