Site maintaned by
Adam Hegyi.
Best viewed in 800*600 or more.
Netscape and IE tested.







E1M8: exit jump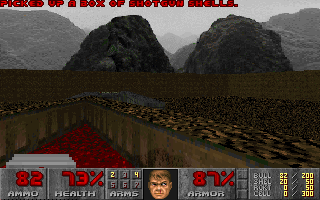 Created and first demo by:
Matthias Belz
e1m8-112 (10/04/1998)
Fastest demo by:
Adam Hegyi
e1m8-055 (03/06/2000)
Skills needed:
straferunning and timing
Difficulty:
hard, can go wrong very easily
Description:
This is a relatively new trick, by a relatively unknown DOOM player, Matthias Belz. Those who are familiar with the magnificient Quake Done Quick speedruns could remember his name from there. The trick spares you the time you have to wait till the final stairs of Episode I slowly build (roughly 10-12 seconds). Recently this trick has been used in other categories on this level, not just speedruns.