Site maintaned by
Adam Hegyi.
Best viewed in 800*600 or more.
Netscape and IE tested.







E1M9: exit jump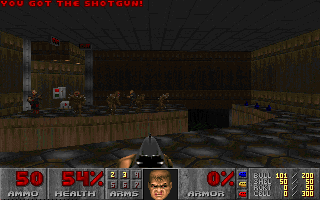 Created and first demo by:
Uwe Girlich
e1m9-042 (14/08/1995)
Fastest demo by:
Vincent Catalaa
e1m9-029 (30/10/1999)
Skills needed:
straferunning
Difficulty:
medium, just find the place to cross the slime
Description:
A jump which gave itself... a rather easy crossing above the slime and just hitting the exit switch. Possibly the worst place to have a trick, at the end of the level (compare: MAP06). Still, a fairly nice speedrun was made through a rather ugly level. Even though Uwe's demo is probably cheated, credit still goes to him for discovering the jump. Later, the jump was used in NightMare! recordings too.