Site maintaned by
Adam Hegyi.
Best viewed in 800*600 or more.
Netscape and IE tested.







E2M7: rocket jump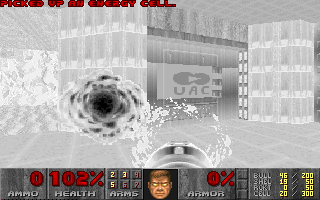 Created and first demo by:
Andy Kempling
e2m7-025 (22/06/1999)
Fastest demo by:
Jonathan Rimmer
e2m7-018 (18/05/2000)
Skills needed:
lots of precision and control
Difficulty:
hard
Description:
Yeah there are rocket jumps in DOOM, here's a very spectacular one. The map fortunately has a rocket/invul combination, which is enough to make the 192 unit leap possible. It makes it possible, yes, but you have only one try. There are no mistakes allowed here. Despite this fact, the trick became very popular in no time and now it exists in UV/NM Speed, UV Pacifist and even in the Episode 2 UV Run!