Site maintaned by
Adam Hegyi.
Best viewed in 800*600 or more.
Netscape and IE tested.







E2M8: cyber shootout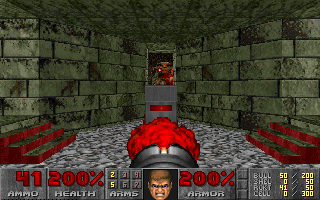 Created and first demo by:
Thomas "GoDfAtHeR" Zajic
e2m8-nmb (17/12/1995)
Fastest demo by:
none, this is a misc. demo
Skills needed:
remembering what to do ;)
Difficulty:
easiest
Description:
A trick quite obsolete by today's standards, but still the *safest* way to finish off that cyberdemon. I wonder why you hold your rocket launcher higher than the cyber?