Site maintaned by
Adam Hegyi.
Best viewed in 800*600 or more.
Netscape and IE tested.







E2M9: yellow key grab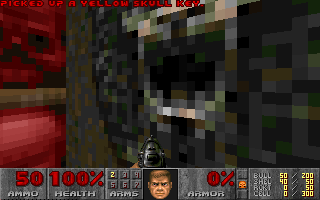 Created and first demo by:
Thomas "GoDfAtHeR" Zajic
e2m9-007 (30/03/1996)
Fastest demo by:
Marijo "Sedlo" Sedlic
e2m9-006 (14/05/2000)
Skills needed:
straferunning precisely
Difficulty:
hard, sometimes you just *can't* get it
Description:
Let me borrow some of Thomas's words:
"Wanna know what's REALLY HOT STUFF?!! Okay, I'll tell ya: getting the yellow key through a solid metal door locked with the red key. 'Big deal, so what?', I hear you say ... well, the point here is: I DO NOT HAVE THE RED KEY!!!"
Yeah... a very nice key grab makes this level all too easy. Also done in 0:07 on NightMare! by Thomas "Panter" Pilger. Still no UV Max demo with this trick though... in addition, many think 0:06 is possible and would be the really unbeatable time.