Site maintaned by
Adam Hegyi.
Best viewed in 800*600 or more.
Netscape and IE tested.







E3M4: yellow key grab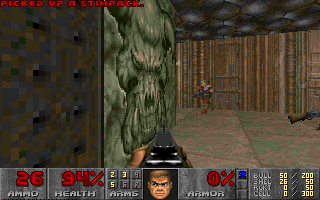 Created, first demo by:
Adam Hegyi
e3m4-047 (15/08/1998)
Fastest demo by:
Adam Hegyi
e3m4-039 (08/11/1999)
Skills needed:
precise strafing, knowing the exact location
Difficulty:
medium with strafe50, otherwise hard
Description:
As this trick is by humble myself, you'd probably want to listen to the story how I discovered this one. The answer is very lame... I was searching the DOOM maps with a DOOM editor, searching for places where you could grab keys, switch through walls etc. And I found this one, loaded up DOOM, and it worked...
Note: this trick helped me to get my time 5 seconds faster than the time of DOOM Done Quick.