Site maintaned by
Adam Hegyi.
Best viewed in 800*600 or more.
Netscape and IE tested.







E3M5: blue key grab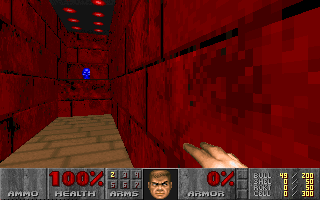 Created, first demo by:
Michael Kren
e3m5-028 (01/03/1996)
Fastest demo by:
Adam Hegyi
e3m5-024 (07/09/1999)
Skills needed:
precise straferunning
Difficulty:
medium, tends to be easier without strafe50
Description:
A really "obvious" key grab which saves around 2 seconds on this map. Very similar to the E2M7 one, a little easier. Also done in NightMare! (0:26) and Pacifist (0:24).