Site maintaned by
Adam Hegyi.
Best viewed in 800*600 or more.
Netscape and IE tested.







E3M6: secret exit switch trick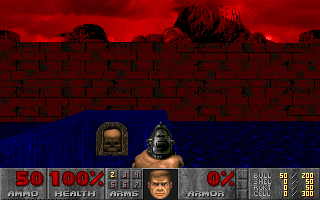 Created, first demo by:
Jonathan "Hunter" Hoof
d1l-jrh (04/05/1996)
Fastest demo by:
Adam Hegyi
e3m6-006 (05/10/1998)
Skills needed:
tapping your use button till you find the switch :)
Difficulty:
easiest
Description:
This switch trick is so old, that nowadays there are people who know it when they're born :) It's really really lame that id spoiled that cool rocket jump into the secret exit by allowing this trick to be done... no skill required whatsoever. OK, maybe if your time is important...