Site maintaned by
Adam Hegyi.
Best viewed in 800*600 or more.
Netscape and IE tested.







E3M7: jumps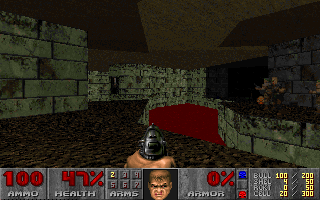 Created and first demo by:
Uwe Girlich
ep3-0446 (10/09/1995)
Fastest demo by:
Adam Hegyi
e3m7-058 (23/06/1999)
Skills needed:
straferunning, lots
Difficulty:
medium, but you've got to be consistently good
Description:
Basically this route consists of two jumps over two gaps, but if you do the backwards jumps, then it's four. No strafe50 is needed for the jumps. Just like as E1M9, I have to mention that the original demo to contain these jumps is likely to be cheated. Anyway, this route is very nice, and made this level a fairly nice speedrun. Once you get a grip of these jumps, they'll be hard to miss, and you can still leave the backwards ones.