Site maintaned by
Adam Hegyi.
Best viewed in 800*600 or more.
Netscape and IE tested.







E3M7: exit jump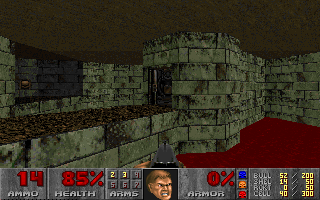 Created and first demo by:
Andy Kempling
e3m7-100 (22/06/1999)
Fastest demo by:
Adam Hegyi
e3m7-058 (23/06/1999)
Skills needed:
straferunning
Difficulty:
medium
Description:
This jump extends the series of jumps in E3M7, but as it was discovered much later than the others and by a different person, it gets a new page. This one saves around 4-5 seconds... As you watch it, it's ridiculously obvious but still, more than 5 years was needed to discover it. In my opinion that's quite remarkable.