Site maintaned by
Adam Hegyi.
Best viewed in 800*600 or more.
Netscape and IE tested.







E4M2: jump shortcut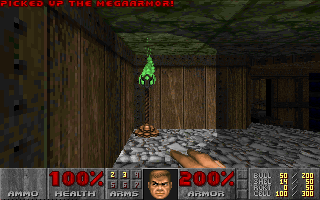 Created, first demo by:
Steffen Winterfeldt
ep4-0848 (30/10/1995)
Fastest demo by:
Adam Hegyi
u4m2-018 (07/03/1999)
Skills needed:
straferunning, knowing the right direction and handling the narrow ledge
Difficulty:
medium
Description:
Interestingly the only trick which really inherited the name of its creator... the "Steffen Winterfeldt jump". With this jump, leaving the blue key became possible, and the map itself got much easier. Nowadays, all LMPs on this map are done with this jump, so knowing it is a must when running this level or Episode 4.
COMPET-N's first contest resurrected the old route by not allowing the jump. The demos proved how hard it is without it.