Site maintaned by
Adam Hegyi.
Best viewed in 800*600 or more.
Netscape and IE tested.







E4M2: BFG grab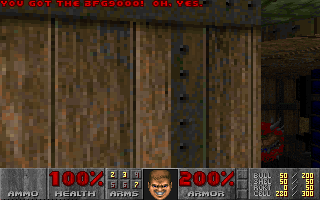 Created by:
George Bell
First demo by:
George Bell
e4m2-y (10/09/1997)
Fastest demo by:
Anders Johnsen
n4m2-026 (06/09/1998)
Skills needed:
knowing the exact spot
Difficulty:
medium
Description:
Another nice trick of E4M2... can be extremely useful in NM and in Episode 4 runs. It's very interesting how you have to grab the BFG, because straferunning into the wall (as in other grab tricks) doesn't work at all, you have to run forward to succeed.