Site maintaned by
Adam Hegyi.
Best viewed in 800*600 or more.
Netscape and IE tested.







E4M4: twin jumps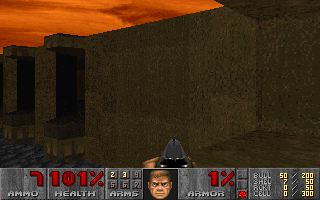 Created and first demo by:
Adam Hegyi
u4m4-036 (25/06/1999)
Fastest demo by:
Adam Hegyi
u4m4-035 (28/10/2000)
Skills needed:
good strafing skill
Difficulty:
medium
Description:
As the title implies, there are two identical jumps here. Both of them save around 0.5 second each. With monsters, only one of them seem to be possible in one run (as the other jump will be completely blocked), but the ZIP file linked shows a 0:35 -nomonsters demo with both jumps implemented.