Site maintaned by
Adam Hegyi.
Best viewed in 800*600 or more.
Netscape and IE tested.







E4M5: jump shortcut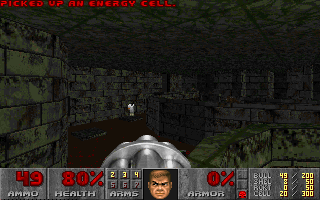 Created and first demo by:
Adam Hegyi
u4m5-028 (24/06/1999)
Fastest demo by:
Adam Hegyi
u4m5-025 (25/07/1999)
Skills needed:
precise straferunning
Difficulty:
medium
Description:
This is a more or less self-explanatory jump across the platforms of the level. It saves little time because the plasma gun, which was on the old route, is now left. We expect that the jump could save much more time in an episode run, but that's still to be done.