Site maintaned by
Adam Hegyi.
Best viewed in 800*600 or more.
Netscape and IE tested.







E4M6: red key grab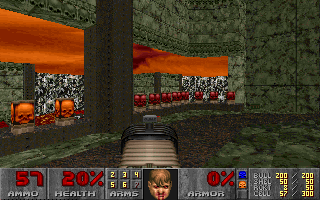 Created by:
Esko Koskimaa
First demo by:
Esko Koskimaa
f4m6-615 (17/04/1998)
Fastest demo by:
Anders Johnsen
u4m6-138 (28/01/1999)
Skills needed:
straferunning precisely
Difficulty:
low medium
Description:
This keygrab is useful in all styles of play on this map. It made E4M6 possible on NightMare! skill (the last DOOM map to be done this way, by Steffen "Rini" Udluft). It's not particularly hard (easier than the similar E2M9) but with monsters around you won't have too many tries with it. It doesn't make the route much shorter but getting the BFG earlier makes a lot of difference.