Site maintaned by
Adam Hegyi.
Best viewed in 800*600 or more.
Netscape and IE tested.







E4M7: exit jump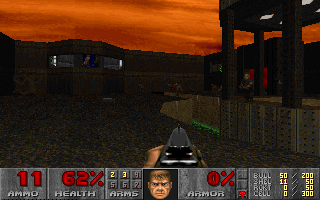 Created, first demo by:
Daniel "Demonlord" Lindgren
u4m7-013 (12/11/1996)
Fastest demo by:
Adam Hegyi
u4m7-011 (05/02/1999)
Skills needed:
straferunning precisely
Difficulty:
hard, especially without strafe50
Description:
If it wouldn't be hard and risky, this jump would make E4M7 very easy. Interesting that Daniel discovered this jump despite he isn't a die-hard Ultimate DOOM fan. The hardness of the jump comes from that the platform you'll land is on higher ground, so it's only possible to make the jump from the sides where the gap is smaller.