Site maintaned by
Adam Hegyi.
Best viewed in 800*600 or more.
Netscape and IE tested.







E4M8: exit jump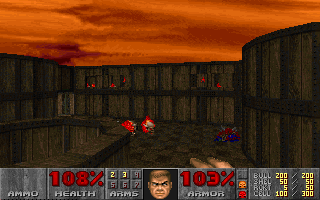 Created, first demo by:
Steffen "Rini" Udluft
p4m8-230 (??/??/??)
Fastest demo by:
Andy Kempling
u4m8-049 (22/06/1999)
Skills needed:
some timing
Difficulty:
easy
Description:
This little jump at the end of E4M8 saves around 2-3 seconds. It's easy and useful in all kinds of styles. It's a bit similar to the E1M8 jump, there, you wait for the stairs, here, you wait for the walls. A really cool way to finish off the map.