Site maintaned by
Adam Hegyi.
Best viewed in 800*600 or more.
Netscape and IE tested.







E4M9: crate jump shortcut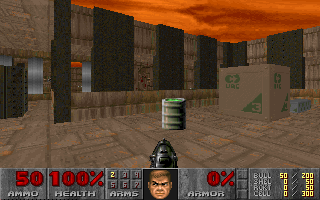 Created, first demo by:
Yonatan Donner
u4m9-016 (26/06/1996)
Fastest demo by:
Thomas "Panter" Pilger
u4m9-010 (04/06/1999)
n4m9-009 (04/06/1999)
Skills needed:
very precise straferunning
Difficulty:
hard
Description:
This ingenious (and hard) jump really makes the chaotic E4M9 a walkthrough. A little crate is just enough to get you over the edge of the starting area, from where the yellow key is just some steps away. The route is very short, yet, it requires some skill to make it. The jump has been done in UV and NM speedruns.