Site maintaned by
Adam Hegyi.
Best viewed in 800*600 or more.
Netscape and IE tested.







MAP03: window jump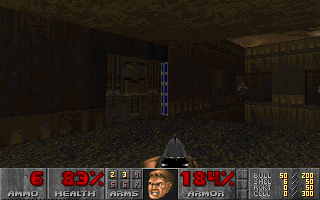 Created and first demo by:
Daniel "Demonlord" Lindgren
lv03-028 (12/06/1996)
Fastest demo by:
Henning Skogsto
lv03-024 (05/09/1999)
Skills needed:
steady, precise straferunning
Difficulty:
medium, becomes easier with practice
Description:
This spectacular jump, by the mighty Demonlord, showed the route to complete MAP03 without the blue key. It's not very hard by today's standards, and it has been executed in many UV and NM speedruns, as well as movies. It's also special because it's the first trick an innocent D2dQ watcher will encounter...