Site maintaned by
Adam Hegyi.
Best viewed in 800*600 or more.
Netscape and IE tested.







MAP03: jump to blue key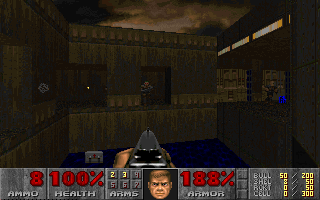 Created, first and fastest demo by:
Thomas "Panter" Pilger
pa03-029 (29/05/1999)
Skills needed:
very precise sfrafing skills
Difficulty:
hard, especially because of the monsters
Description:
This nice jump is useful in Pacifist skill. With it, you don't have to worry about the spectres/soldiers down in the dark. It's likely that it'll stay just in the Pacifist route, as the UV and NM routes have a faster jump already.