Site maintaned by
Adam Hegyi.
Best viewed in 800*600 or more.
Netscape and IE tested.







MAP03: rocket jump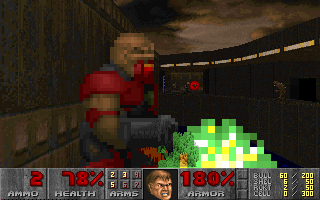 Created, first and fastest demo by:
Jonathan Rimmer
lv03-023 (14/01/2000)
Skills needed:
extreme rocketjumping skills
Difficulty:
insane
Description:
This brilliant jump was sent in by Jonathan Rimmer. It involves rocket jumping into the teleporter of the big room, however, a chaingunner is needed to serve as "wall surface" (this is also called rocket jumping off a monster). In theory, with this jump the time of this map could be reduced under 20 seconds, but maybe it's just too hard to try?!