Site maintaned by
Adam Hegyi.
Best viewed in 800*600 or more.
Netscape and IE tested.







MAP04: exit jump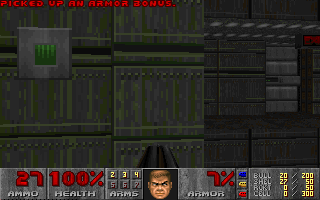 Created and first demo by:
Kai-Uwe Humpert
lv04-135 (05/04/1996)
Fastest demo by:
Vincent Catalaa
lv04-028 (30/10/1999)
Skills needed:
very precise sfrafing skills
Difficulty:
medium, but the chaingunners can be hell
Description:
Interesting that this jump was first done in a 100% kills demo. The probable reason is that the jump is reasonably easier without monsters around (because you can take a deep breath before the attempt). Later speculations began how to insert this jump into a speedrun. The first solution was the combination with the Pacifist route. Then when Vincent Catalaa came up with another jump, it needed little time to combine the two together.