Site maintaned by
Adam Hegyi.
Best viewed in 800*600 or more.
Netscape and IE tested.







MAP05: rocket jump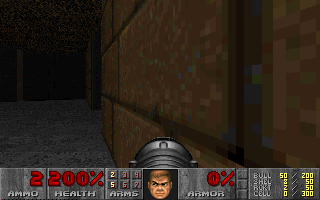 Created by:
Jonathan Rimmer
lv05rock (25/08/1999)
Skills needed:
extreme rocket jumping skills
Difficulty:
very tough
Description:
This rocket jump (by Jonathan of course :) makes it possible to leave the red key. However, the rocket launcher is out of the route, so this jump could only save time in a multilevel recording. It's quite unlikely though, that someone would try this for gaining a few seconds only, so this trick will probably remain as good entertainment.