Site maintaned by
Adam Hegyi.
Best viewed in 800*600 or more.
Netscape and IE tested.







MAP06: window jump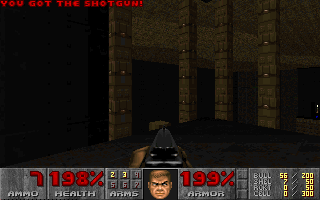 Created and first demo by:
Kai-Uwe Humpert
lv06-118 (17/02/1996)
Fastest demo by:
Henning Skogsto
lv06-054 (24/04/2000)
Skills needed:
the *classic* strafing jump
Difficulty:
hard to say... :) it really depends how much you can get the grip
Description:
This is the jump my non-Doom friends said it was the most spectacular of all... it really looks unbelievable at first sight. Actually it's a pretty standard part of MAP06 running these days. The good thing is that even if you fail, there not that much of a trouble since you can still continue the level. Another interesting tidbit is that the jump is possible even when the elevator is not there... try it for a good challenge!