Site maintaned by
Adam Hegyi.
Best viewed in 800*600 or more.
Netscape and IE tested.







MAP06: revenant workaround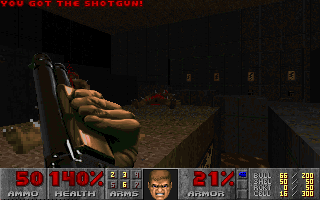 Created and first demo by:
Michael Kren
nm06-221 (28/04/1999)
Fastest demo by:
Ilya Britvich
nm06-134 (18/11/1997)
Skills needed:
little, just don't trigger the revenants
Difficulty:
easy
Description:
A very useful little jump for the NightMare! running of this map. You can easily avoid the revenants by using the platform in the slime (just don't fall into it). Later, as the times for this map on NM decreased, the jump was omitted again, because it's faster without.