Site maintaned by
Adam Hegyi.
Best viewed in 800*600 or more.
Netscape and IE tested.







MAP06: exit jump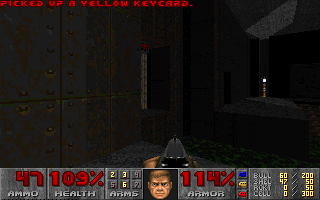 Created by:
Kai-Uwe Humpert
First demo by:
Daniel "Demonlord" Lindgren
lv06-124 (16/02/1996)
Fastest demo by:
Henning Skogsto
lv06-054 (24/04/2000)
Skills needed:
"just another" precise strafejump
Difficulty:
medium... it tends to be harder than the windows jump
Description:
Another of those great Kai-jumps... this one makes it possible to completely leave the chaotic MAP06 endroom and finish quite easily. The spectres in the slime can be some bother (only in NM really). Even though Kai discovered the jump, Daniel made its debut in COMPET-N, but his text clearly says that we should give credit to Kai for the jump.