Site maintaned by
Adam Hegyi.
Best viewed in 800*600 or more.
Netscape and IE tested.







MAP07: co-op trick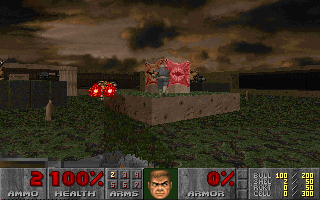 Created and first demo by:
Thomas "Panter" Pilger/Patrick "Baum" von Massow
lv07-009 (19/10/1997)
Fastest demo by:
Marijo "Sedlo" Sedlic/Adam Hegyi
cs07-006 (11/08/2000)
Skills needed:
coordination between players... especially the player behind has to pay attention
Difficulty:
hard, the mancubi are extremely annoying here
Description:
A very cool and really surprising trick, showing that MAP07 is indeed possible with 0% kills. The 2nd player boosts the other one with an SSG blast (megasphere is recommended here) and the speed is enough for the marine to climb the stairs to the exit. The SSG boost is the equivalent of roughly 150% turbo running.
Panter and Baum say the trick should be possible in single player as well, by straferunning and using a rocket boost into a mancubus. But it is yet to be done.