Site maintaned by
Adam Hegyi.
Best viewed in 800*600 or more.
Netscape and IE tested.







MAP09: switch trick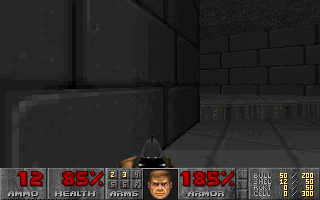 Created and first demo by:
Andreas "Anthe" Kren
lv09-121 (09/01/1997)
Fastest demo by:
Vaclav "Bolton" Kunes
lv09-104 (06/01/2000)
Skills needed:
coordination between switch/running
Difficulty:
easy
Description:
An easy and reliable trick which saves around 5 seconds. It involves switching and catching a rising platform (compare E1M4 and MAP11). Since Anthe's demo, it has been widely used in UV and NM speedruns, as well as longer UV and NM runs. One trick which is easy to learn and easy to execute.