Site maintaned by
Adam Hegyi.
Best viewed in 800*600 or more.
Netscape and IE tested.







MAP09: rocket jump #1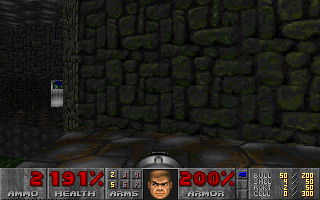 Created by:
Jonathan Rimmer
lv09rock (02/07/1999)
Extended by:
Adam Hegyi
lv09roc2 (28/01/2000)
Skills needed:
lots of precision, as for all RJ's
Difficulty:
hard
Description:
One of Jonathan's first rocket jumps. Could save quite a lot of time in the yellow key room, but unfortunately there's a whole bunch of monsters blocking the way, so it's quite unlikely anyone can do this in an actual run. Especially in the extended version, that could be very fast but totally impossible with monsters included.