Site maintaned by
Adam Hegyi.
Best viewed in 800*600 or more.
Netscape and IE tested.







MAP09: rocket jump #2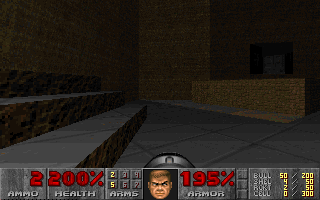 Created by:
Jonathan Rimmer
lv09rock (02/07/1999)
Skills needed:
precise RJ skills
Difficulty:
very hard
Description:
Another Jonathan jump, this is even harder than the previous MAP09 jump. There's a hell knight blocking the way, also the RL is quite out of the route, which means it's another rocket jump that won't make it into actual speedruns. Looks quite spectacular, though.