Site maintaned by
Adam Hegyi.
Best viewed in 800*600 or more.
Netscape and IE tested.







MAP10: bars glide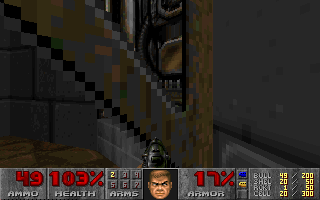 Created by:
Vaclav "Bolton" Kunes
lv10-3ck (18/04/2000)
Skills needed:
same as MAP19 pole-trick, see there...
Difficulty:
quite easy actually
Description:
Whew how about this one folks? This one has to be SEEN to be believed! One of the weirdest bugs of DOOM discovered with this trick... the DOOM marine showing some David Copperfield skills here (= walking through walls). Talking and research has started after this trick was discovered whether there are more spots in the game like this. Who knows?