Site maintaned by
Adam Hegyi.
Best viewed in 800*600 or more.
Netscape and IE tested.







MAP11: switch from slime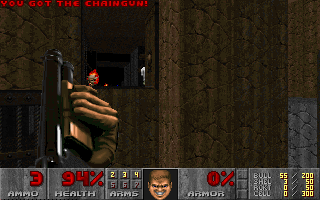 Created and first demo by:
Kai-Uwe Humpert
lv11-043 (13/07/1996)
Extended by:
Yonatan Donner
DOOM2 Done Quick (10/06/1998)
Fastest demo by:
Henning Skogsto
lv11-036 (08/01/2000)
Skills needed:
no real skill for the switch, quite perfect running for the "extended" version
Difficulty:
switching: easy, running: hard
Description:
This trick is one of the many "switch from slime" tricks (compare: E2M2, MAP15). As in the other maps, you can access switches from a much lower position, triggering their effect. This trick reached its full potential when Yonatan showed a variation that the rising platform can be reached after the switching. This way is much harder and often requires that you hit the switch on your first try.