Site maintaned by
Adam Hegyi.
Best viewed in 800*600 or more.
Netscape and IE tested.







MAP11: jump to platform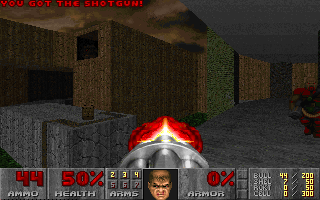 Created and first demo by:
Kai-Uwe Humpert
lv11-043 (13/07/1996)
Fastest demo by:
Henning Skogsto
lv11-036 (08/01/2000)
Skills needed:
switching straferunning direction precisely
Difficulty:
not very hard but monsters block the way really well
Description:
A nice little jump which made the red key obsolete in this level. This is used in connection with the switch trick described earlier. The difficulty in this jump is the large number of various monsters which block the runway of the jump most of the time. The jump is possible without strafe50 and tends to be easier because you can adjust your direction with smooth turning.