Site maintaned by
Adam Hegyi.
Best viewed in 800*600 or more.
Netscape and IE tested.







MAP12: yellow key grab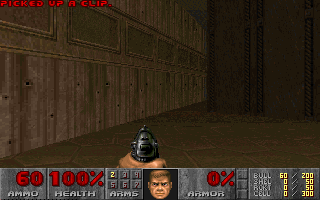 Created and first demo by:
Thomas "Panter" Pilger
lv12-050 (24/02/1998)
Fastest demo by:
Henning Skogsto
lv12-043 (01/05/2000)
Skills needed:
knowing the location and good strafing, as with other keygrabs
Difficulty:
medium, the mancubi tend to be annoying
Description:
A small trick which saves around 3 seconds on this map. The trick itself is one of the classical keygrabs: the player gets the key from the back side of the wall. Because MAP12 is quite a hard speedrunning map, this trick is not really used in episode runs and not at all in NightMare! skill.