Site maintaned by
Adam Hegyi.
Best viewed in 800*600 or more.
Netscape and IE tested.







MAP16: red bars glide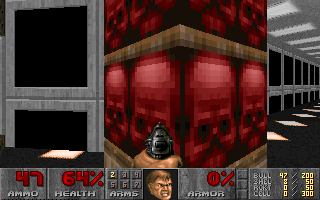 Created and first demo by:
Jonathan Rimmer
lv16-023 (07/09/1999)
Fastest demo by:
Marijo "Sedlo" Sedlic
lv16-012 (10/09/1999)
Skills needed:
only luck?? ask the people who master this trick
Difficulty:
hard
Description:
...Another map cut short by an amazing trick. Mind you, this trick shouldn't be possible at all, the gap is 32 units and although the player is 32 units "wide", normally it can only enter corridors of 33 units in width... but somehow this place appears as different for DOOM. Quite weird, but LMPs in both UV and NM skills show that players have a great instinct of discovering and using engine bugs like this (and others).