Site maintaned by
Adam Hegyi.
Best viewed in 800*600 or more.
Netscape and IE tested.







yellow key jump-in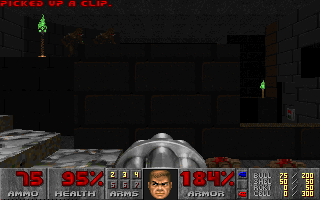 Created by:
Andreas "Anthe" Kren
First demo by:
Thomas "Panter" Pilger
lv17-242 (18/01/1998)
Fastest demo by:
Anders Johnsen
lv17-209 (11/06/1998)
Skills needed:
some precise strafing
Difficulty:
medium
Description:
Anthe was the first to discover this jump, but as far as I know, he didn't do an actual COMPET-N LMP with it, only a slowmotion recording. Panter later discovered the jump on his own; which is now used in UV and NM recordings of this map. The jump itself seems really simple as you watch it, and it's really interesting that it's the map design which makes this possible rather than some brilliant playing.