Site maintaned by
Adam Hegyi.
Best viewed in 800*600 or more.
Netscape and IE tested.







blue key jump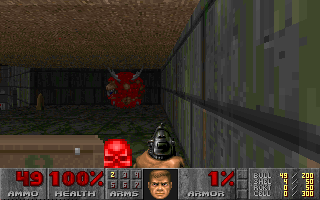 Created by:
Ilya Britvich
First demo by:
Esko Koskimaa
lv19-041 (24/07/1998)
Fastest demo by:
Adam Williamson
lv19-040 (20/02/2000)
Skills needed:
extreme straferunning skills
Difficulty:
Don't ask! The hardest jump ever which has been done
Description:
Unfortunately I don't have Ilya's original -nomonsters recording anymore, but we have Esko's and Adam's demo as the only COMPET-N demos featuring this jump. It's hard to say anything here... This jump is really extremely hard, so don't try it at home... Just kidding :) But even Esko himself (who is a master of this jump compared to all of us) said: "making the jump with monsters around is the hardest thing for sure I've ever done in this game..." And I'm sure we can believe him!