Site maintaned by
Adam Hegyi.
Best viewed in 800*600 or more.
Netscape and IE tested.







MAP20: slime route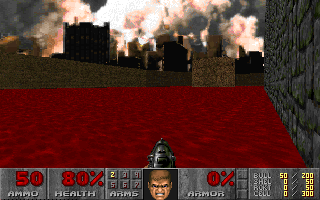 Created and first demo by:
Istvan Pataki
lv20-049 (03/10/1996)
Fastest demo by:
Thomas "Panter" Pilger
lv20-035 (25/05/1999)
Skills needed:
some good wallrunning skill
Difficulty:
easy
Description:
Istvan was the first who recorded a demo using that teleporter in a speed route. He got it with radiation suit though, it was Daniel Lindgren who first showed it with his 100% health slowly ticking away. Later the megasphere was also left (again it was Daniel) and one of the most frustrating speedruns was born. There is also a small jump right after teleporting, and despite all my research, I still don't know who discovered that one.