Site maintaned by
Adam Hegyi.
Best viewed in 800*600 or more.
Netscape and IE tested.







MAP21: bars glide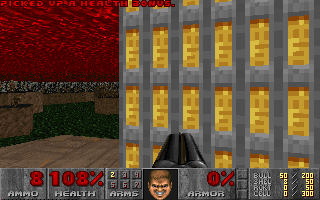 Created and first demo by:
Jonathan Rimmer
lv21-030 (26/02/2000)
Fastest demo by:
Adam Hegyi
lv21-024 (23/11/2000)
Skills needed:
even with great precision it needs great deal of luck
Difficulty:
one of the hardest
Description:
This is one of the glides discovered in 2000, the main difference here is that there is no wall which the player could squeeze himself to, which makes the trick insanely hard to perform. As I practised it quite a lot myself, I can tell that it comes better with lots of trying, it's possible to learn the perfect positioning eventually; but it's still a really frustrating trick. Especially if someone wants to stay on the ledge, which is yet to be done, but would almost certainly mean a speedrun under 0:20.