Site maintaned by
Adam Hegyi.
Best viewed in 800*600 or more.
Netscape and IE tested.







MAP22: bars glide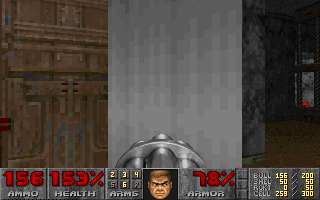 Created by:
John Keniry
First demo by:
Steffen "Rini" Udluft
nm22bars (21/11/1999)
Fastest demo by:
Jaromir "Jacih" Cihak
lv22-040 (17/12/1999)
Skills needed:
only luck??
Difficulty:
hard
Description:
Similar to the MAP16 glide in some ways, but also different somewhat. This also saves a lot of time and health if executed fast, however the execution seems to be much harder than in MAP16. This trick could bring down the time close to 0:30, or maybe even better. We'll see...