Site maintaned by
Adam Hegyi.
Best viewed in 800*600 or more.
Netscape and IE tested.







MAP22: platform jumps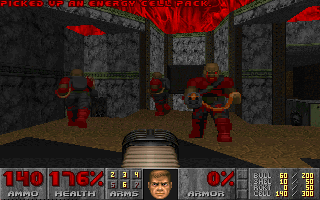 Created, first and fastest demo by:
Vincent Catalaa
lv22-037 (09/01/2000)
Skills needed:
strafe50 skills
Difficulty:
hard
Description:
There are two identical jumps involved here, each save 3-4 seconds of time because you don't have to wait for the platforms to rise. Quite hard to do because there are lots of chaingunners around, strafe50 helps a little, but you have to do it twice to make it quick. Combined with the glide described before, this could lead to a real fast time here!