Site maintaned by
Adam Hegyi.
Best viewed in 800*600 or more.
Netscape and IE tested.







MAP22: rocket jump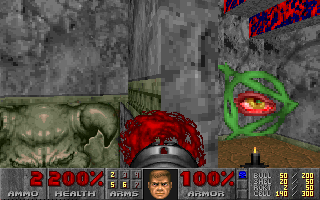 Created by:
Selim "Bastard" Benabdelkhalek
lv22rock (24/01/2000) - missing this demo. If you have it, send it in.
Skills needed:
precise alignment before the jump
Difficulty:
very hard
Description:
A jump that will certainly never make it into actual speedruns, but quite spectacular to watch. This could save around 4 seconds at the baron area. The rocket jump makes it possible to jump directly to the platform where the red key is located, without having to lower it. Unfortunately imps are blocking the way; and the alignment before the jumps takes too much time to try this one seriously.