Site maintaned by
Adam Hegyi.
Best viewed in 800*600 or more.
Netscape and IE tested.







MAP24: rocket jump #2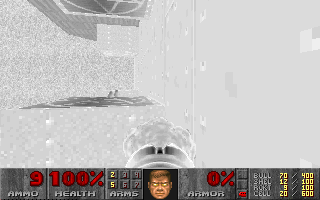 Created by:
Marijo "Sedlo" Sedlic
lv24rj02 (01/06/2000)
Skills needed:
Aim is important
Difficulty:
hard
Description:
This is a tricky and big rocketjump on MAP24, almost certainly it will never be used. Since then it was discovered that the same jump is possible without a rocket launcher, and that variant became much more successful with a real UV speedrun around. Click next for more.