Site maintaned by
Adam Hegyi.
Best viewed in 800*600 or more.
Netscape and IE tested.







MAP26: yellow key jump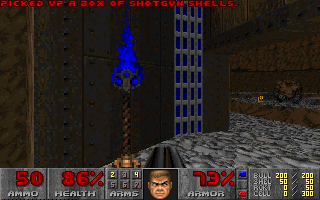 Created and first demo by:
Daniel "Demonlord" Lindgren
lv26-053 (??/??/??)
Fastest demo by:
Vincent Catalaa
lv26-041 (18/08/2000)
Skills needed:
precise straferunning
Difficulty:
hard even with strafe50
Description:
A really tough and long jump which saves around 4-5 seconds in this map. It *is* possible with strafe40, terribly hard though. It seems so that the lost soul around in the slime helps getting over to the other side. Monsters aren't much of a problem here, but it'd be quite hard to implement this jump into NightMare! too.