Site maintaned by
Adam Hegyi.
Best viewed in 800*600 or more.
Netscape and IE tested.







MAP28: switch from below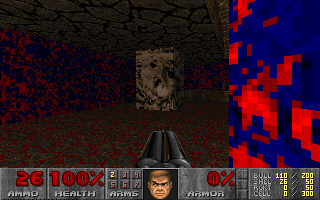 Created and first demo by:
Daniel "Demonlord" Lindgren
lv28-049 (13/06/1996)
Fastest demo by:
Adam Hegyi
lv28-041 (04/08/2000)
Skills needed:
nothing, really
Difficulty:
easy
Description:
A little trick which saves around 2-3 seconds in this map. After all the switch tricks, this isn't really a surprising trick. There are absolutely no monsters around so you can take your time trying. Of course it's better if you learn how to do it fast, before you try serious speedrunning of this map.