Site maintaned by
Adam Hegyi.
Best viewed in 800*600 or more.
Netscape and IE tested.







MAP29: endroom jump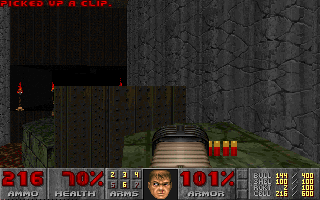 Created and first demo by:
Frank "Jesus" Siebers
29s2-517 (25/12/1997)
Fastest demo by:
Vaclav "Bolton" Kunes
lv29-146 (01/05/2000)
Skills needed:
very precise straferunning
Difficulty:
hard
Description:
This jump was originally done in a Reality demo (that is, making a level without getting hurt) to avoid falling in the slime. Later, during the production of DOOM2 Done Quick, we discovered that it's much easier than it seems from Frank's original demo. It was put into the D2dQ run but it still needed a year to have the jump in COMPET-N. The jump itself is quite hard to do, plus it's near the end of the map (which itself isn't too easy) and 2 barons are there to push you off. It's really not for the faint-hearted.