MY FULL NAME IS JERRY LEHR, AND THIS IS MY WEBSITE.
THERE ARE MANY THINGS HERE TO ENJOY AND LOOK AT, BUT THIS IS
THE CONDENSED VERSION FOR MOBILE SMARTPHONES. IF YOU WOULD LIKE
TO SEE THE DESKTOP VERSION, CLICK THE LOGO ABOVE!

ANYWAYS, I LIVE IN INDIANA (UNITED STATES) AND AM ONE OF THE TWO
MUSICIANS BEHIND THE PROJECT WARLOCK GAMES. I WENT TO COLLEGE
IN INDIANAPOLIS AT A SCHOOL CALLED ITT TECHNICAL INSTITUTE,
WHICH NO LONGER EXISTS. I STUDIED MULTIMEDIA AND LEFT 2 YEARS IN
WITH AN ASSOCIATE'S DEGREE AND A 3.83 GRADE POINT AVERAGE, WHICH
I'M REALLY F$*%ing PROUD OF!!

MY MAJOR WAS ABOUT TO BE GAME DESIGN BUT IT WAS TOO EXPENSIVE
AND I KEPT GETTING PICKED FOR AUDIO DEEDS ANYWAYS, SO I
EVENTUALLY WENT WITH THAT. MY MAIN JOB, HOWEVER, IS THE
UNITED STATES POSTAL SERVICE, WHERE I MAKE BOXES
AND DO OTHER FAST THINGS. MY HOBBIES INCLUDE BAD DOOM
WADS, OLD MARIO HACKING (I'M DONE WITH THESE TWO THINGS)
AND MAKING MY OWN MUSIC BOTH FOR EXPERIMENTAL FUN AND FOR
VIDEO GAMES.





MAY 29, 2022
I HAVE CREATED THE MOBILE FRIENDLY WEBSITE PORT!





IF YOU ARE INTERESTED IN MY RANDOM BLOG OF THINGS, INCLUDING
SOME STUFF INCLUDED HERE MORE IN DEPTH AND THINGS TO COME,
THEN FOLLOW THIS LINK. UNLIKE THE LAST BLOGS I'VE HAD,
I'LL TRY TO ACTUALLY UPDATE THIS ONE AS TIME GOES BY. THERE
WILL BE SPANS I'M SURE WHERE NOTHING GOES THERE OR IS HAPPENING,
BUT I'LL KEEP IT THIS TIME.





THE NOISE VAULTS IS A COLLECTION OF ALBUMS FEATURING
GUITAR AND MADE USING THE SOFTWARE ACID. THE FIRST SIX ARE
FROM TRACKS I MADE UP MAINLY IN THE NINETIES RAN THROUGH
SOFTWARES IN 2001-2004 INCLUDING A SOUNDTRACK FROM COLLEGE
FROM 2005. THEY HAVE SINCE BEEN REDUX'D IN 2021 TO SOUND
FRESH AND HAVE NEW PARTS AND ACCOMPANYING PIECES AND FRESH
TRACKS.

VAULT RELEASES 7-12 WILL BE THE SECOND SET FROM MODERN DAY
AND ALSO WEIRDLY BEFORE 2001 IN SOME CASES. IT WILL BE
MACHINE-THEMED AND THE TITLE WILL BE
"MACHINES MELODIES AND MAYHEM."





THIS COLLECTION OF EPS STARTED IN 2005 AND GOES ALL THE WAY
UP UNTIL 2019 SO FAR, BUT THERE WILL BE ANOTHER SET OF SIX
DISCS WORTH OF MATERIAL COMING SOONER THAN THE FOURTEEN YEARS
IT TOOK TO CREATE THE FIRST ONE OFF AND ON. THERE IS ALSO IN
THE WORKS A PHYSICAL CD-SET VERSION OF THIS COMPILATION SIX
DISCS IN LENGTH WITH A DELUXE VERSION INCLUDING ALL THE
OUTTAKES AND REMIXES, ON TWELVE CDS.

THEY WILL BE MADE IN THE FUTURE, BUT VERY SOON IN THE FUTURE!





I AM ONE OF THE TWO MUSICIANS BEHIND THE PROJECT WARLOCK 2
SOUNDTRACK AS WELL AS I GUESS THE MAIN MUSICIAN OF PROJECT
WARLOCK ITSELF. I ENLISTED LUKE TOWARDS THE END OF THE
FIRST GAME, AND WE ARE NOW ABSOLUTE AUDIO!





THIS IS LUKE'S SITE, THE OTHER GUY BEHIND THE PW SOUNDTRACKS





THIS IS THE WEBSITE I'M WORKING ON FOR THE COMPANY BEHIND PW





IF YOU WOULD LIKE TO WASTE SOME TIME IN A SOURCE PORT OF
DOOM FOR YOUR PATICULAR MOBILE PHONE, I HAVE COMPILED
A LIST OF VARIOUS BAD DOOM WADS I MADE IN THE NINETIES
FOR THE SAKE OF TESTING YOUR SHIT:


Chamberz 1 Chamberz 2 Chamberz 3 Battlefieldz
Nightmarez Nightmarez 2 Nightmarez 3 Chaos '95
and finally... Nightmares of Loki 1999.

More descriptive pages: here



YOU CAN ALSO PLAY A FEW NEWER ONES AND MORE MAY COME:
I did MAP14 with "mistersector" of: Oops! All Techbase
which runs on any vanilla-compatible port

The Absynthium Music Pack exists here as MP3 music replacements
in a PK3 file for mobile ports that can handle that, if any.

Unicorn Palace for GZDoom-compatible ports

and Little One, a little stupid PK3 map that took 20-minutes.





IF YOUR PHONE IS EQUIPPED WITH A NINTENDO EMULATOR, I HAVE
A FEW ROM HACKS OF THE SUPER MARIO BROS TRILOGY FOR YOU TO TEST IN IT.





IF YOU HAVE A DIE OR PAIR OF DICE HANDY AT HOME, OR YOU'RE
LIKE ME AND CARRY A PAIR WITH YOU AT ALL TIMES, SAY LIKE AT WORK.
I DO THIS IN CASE OF FREE TIME WHICH IS NORMALLY SPENT
ON WRITING STUFF DOWN, BUT SOMETIMES IF OTHER PEOPLE ARE
AROUND THAT PLAY CRAPS, OR I FEEL LIKE MAKING UP MY
OWN GAMES, I'LL BRING THEM OUT.

I HAVE CONSTRUCTED A SMALL TABLE OF POSSIBILITIES
OF TWO DICE ROLLS FOR THE SAKE OF MAYBE MAKING
YOUR OWN GAMES. HELL SUBMIT SOME AND I'LL LINK TO
THEM OR EVEN HOST THEM WITH CREDITS GIVEN WHERE DUE.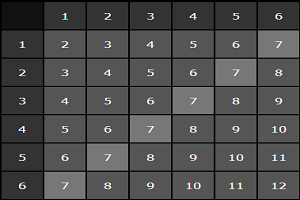 THERE ARE SOME GAMES I'VE COME UP WITH AS WELL.





DON'T CARRY DICE AROUND LIKE A TOTAL WEIRDO EVERYWHERE
THAT YOU GO? THAT'S FINE! I'M SURE YOU HAVE AT LEAST ONE
COIN SOMEWHERE UNLESS YOU'RE STRICTLY PLASTIC CARDS.

I HAVE ALSO MADE A "WAITING ROOM BOREDOM" TYPE GAME WHERE
REPEATEDLY FLIP COINS TRYING TO PASS LEVELS. IN THIS GAME
HOWEVER, IF YOU BOMB A LEVEL, YOU HAVE TO RETURN ALL THE
WAY BACK TO LEVEL 1. YOU PROBABLY WON'T BEAT THE FINAL
PRODUCT, SO YOU MIGHT AS WELL JUST KEEP IN MEMORY HOW
FAR YOU'VE GOTTEN AND CONSIDER THAT YOUR HIGH SCORE!





ABOUT X-BOARDS AND HOW TO PLAY

THERE IS ALSO AN EXAMPLE GAME YOU CAN PLAY OR PRINT!
FRUSTRATION!